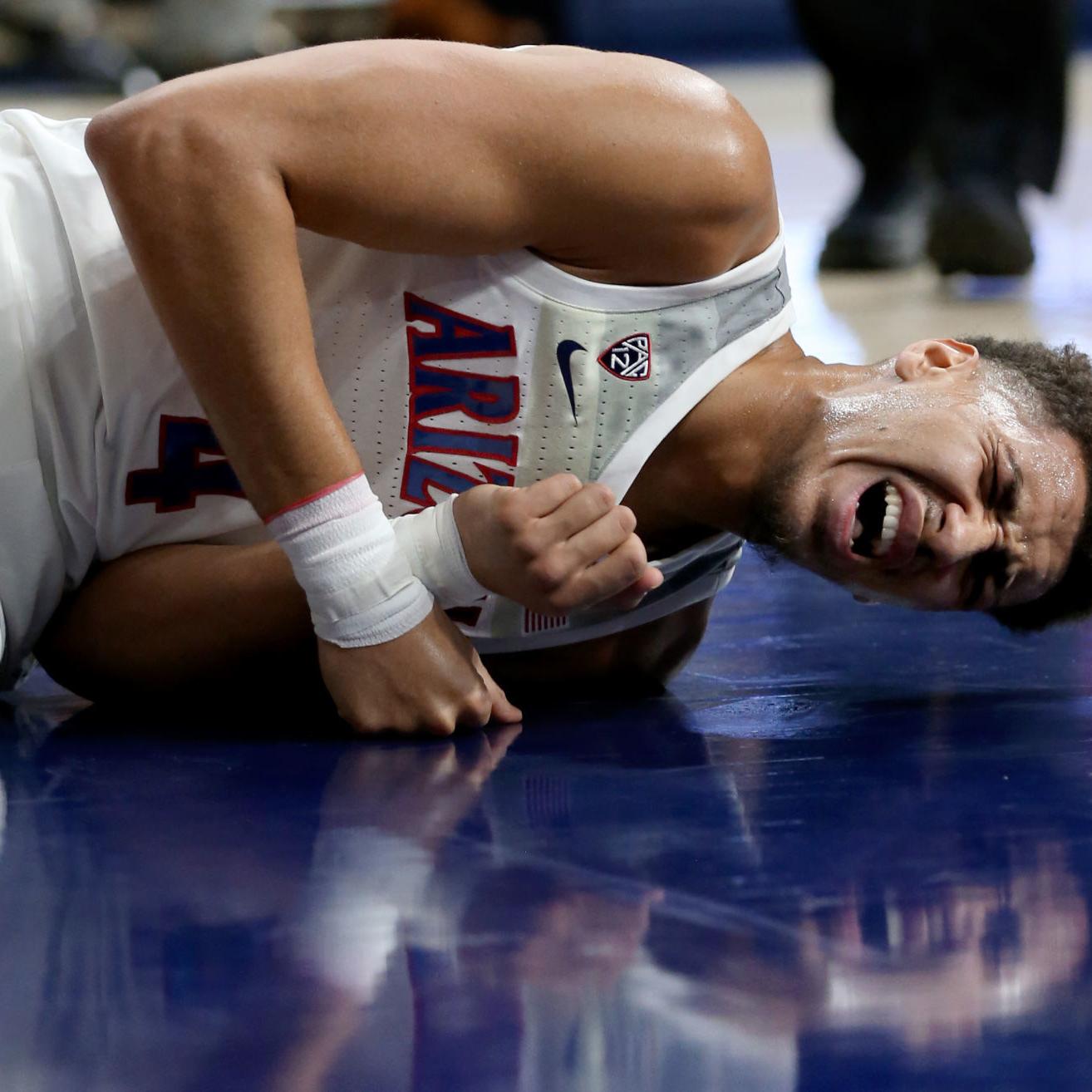 March 21, 2020
SACRAMENTO, Ca. – Sometimes it takes a body blow to wake a team up. Sometimes it takes a concerted effort from its fans.
If you get both? Chances are, you're moving on.
"That's two. Four more to go," said Arizona coach Sean Miller. "But we take each game one game at a time, so one more to go, and so on, four times. If we do this thing of one at a time for four more times, for a total of six times, it's this one, this time, that will stay with us for all of time."
Early on, San Diego State looked like the same veteran team that had gone undefeated until late February, bullying the younger Arizona squad while racing out to a sixteen-point lead.
"Malachi Flynn is real good," Nico Mannion said of his point guard counterpart, the Mountain West Player of the Year. "He's probably one of, what, a dozen guards who's played pretty well against me this year."
For much of the first half, San Diego State used its size and strength to out-rebound and generally out-tough Arizona. Junior Flynn hounded Mannion with full-court defense, turning Mannion over four times. Fellow junior guard Jordan Shakel made four three-pointers in the opening minutes to help shoot the team to an early lead.
Then Matt Mitchell, San Diego State's bruising junior power forward, took over.
"He's a beast," Arizona forward Zeke Nnaji said. "A mean one."
Mitchell collected two early fouls on Nnaji, converting both into three-point plays and sending the talented freshman to the bench for the rest of the half. When Coach Miller countered by subbing in seven-foot Christian Koloko, Mitchell continued to have his way, showing off an array of low-post moves en route to a game-high fourteen point first half.
"We knew going in we were stronger than them," Mitchell said. "Just not, you know, that much stronger."
The game turned when Coach Miller called on a player who had, of late, fallen out of his rotation: fifth-year forward Chase Jeter.
"We're going to have to re-spell his name for the statue they'll put up," Arizona coach Sean Miller said. "It should be Charge Jeter, not Chase. He might be remembered in Tucson now."
Following Arizona's season-high fourteenth first-half turnover, this on a drive into traffic by guard Dylan Smith that ended with Smith face-planting into Mitchell's chest, bloodying Smith's nose, San Diego State rushed out in transition. After Flynn made a nifty open-court spin around Arizona defender Josh Green, only one obstacle remained in his path: Jeter.
"Chase really liked taking charges," Arizona guard Josh Green said.
Flynn made a no-look pass to an in-stride Mitchell, who rose up for the dunk. Jeter, awaiting Flynn in the hopes of taking a charge, never saw Mitchell coming.
"After that point," Miller said, "I was impressed with our team. They focused, put forth the right energy. They really got back into the game."
"Yeah, the Jeter death," San Diego State coach Brian Dutcher said. "That was a big play. I mean the crowd got ornery, it felt more like a road game. We missed a lot of easy open shots in the second half. You could say it was the fans. You could say it was their defense. Guilt at killing one of their players, maybe, sure."
His players agreed. "Really hostile in the second half," said Flynn. "Especially when they did the, 'U of A, U of A,' whatever letters they were saying."
After the Jeter play, the Arizona fan contingent, seated primarily behind San Diego State's second half offensive basket, became loud hecklers, jeering at the San Diego State players and waving certain items of distraction during free throws, including unflattering fat-head faces of disturbed-looking men and even the iconic face of the global economy.
KJ Feagin, San Diego State's senior reserve guard, was repeatedly serenaded as "Recalled Mayor," a nod to former Sacramento mayor and Phoenix Sun point guard Kevin Johnson. Feagin shot 1-6 from the free throw line in the second half.
"It gets to you," he said. "The energy was weird in there."
San Diego State senior center Yanni Wetzel turned the ball over four times.
"I know it rhymes with pretzel," he said. "I'm not stupid."
Each time Shakel touched the ball, Arizona fans chanted in gravelly voices the name "Missus Torrance," a fusing of the guard's hometown and Shelley Duvall's role as the wife in the 1980 film The Shining. Shakel said it impacted him. "I mean, I shot six airballs. That's weird. I'm not saying a ghost was out there blocking shots, but…."
Hearing this comment, Mannion laughed. "Nah, Ghost Chase wouldn't block nothing, he'd just keep taking charges."
San Diego State's first half star Mitchell also had a second half to forget: after shooting 87% from the line this season, he missed three consecutive front-ends of one-and-ones late in the second half. He said that the crowd also got to him.
"They say 'nice shot, buddy,' but they're lying. It ain't a nice shot, and I ain't their buddy."
In the game's final ten minutes, Arizona outscored San Diego State 33-6, coasting to a 12-point victory, the final margin being 81-69. Overall, it was a team effort for Arizona, as five players scored more than 14 points: Green, who led the way with 18, Smith and Mannion and forward Stone Gettings with 16, and fourteen each for Nnaji and reserve guard Jamarl Baker.
"We hung in there," Miller said. "To lose a player with the caliber of Chase while still going on to win a game like this—it might cause mixed feelings, sure, but I think it's the right mix of feelings for this one. But this one is just this one. We'll see what happens in the next one."
UP NEXT
Arizona plays No. 6 seed BYU on Friday in Los Angeles in the first game of the Midwest Regional semi-finals.