No. 7 seed Arizona squeaks past No. 10 seed Texas Tech 70-69 behind familiar freshmen trio—and one surprise contributor
March 19, 2020
SACRAMENTO, Ca. – In the opening game of the Midwest Regional, it was a battle of big versus small—and, finally, the littlest guy of all came through.
Led by Zeke Nnaji and his talented fellow freshmen, Arizona charged out to a twenty-point first half lead. But Texas Tech went small-ball in the second-half, coming all the way back to take a 69-67 lead with nineteen seconds left.
"I told the players not to give up, to never give up," Arizona coach Sean Miller said. "The social distancing measures maybe helped a little on that last play—but it was more about our guy showing to everyone that we have the heart of a champion."
That player was grad transfer Max Hazzard, the game's shortest-statured player, who'd returned to the team just hours before the game after a weeks-long absence due to an ongoing family situation. "We wanted another ball handler out there in case they trapped Nico," Miller said, explaining why he put Hazzard into the game for the first time on the final play. "And, just, wow. Best call of my life."
After Josh Green was unable to directly in-bounds the ball to a teammate, he flung it randomly downcourt to avoid a five-second call.
"That was a pretty stupid play I made," said Green.
But it worked. Hazzard, coughing vehemently as he ran, was first to the ball. Without any resistance from the worried Texas Tech players, Hazzard calmly dribbled behind the three-point line, and, to the consternation of Texas Tech coach Matt Bell, licked all over the ball. (Asked for comments after the game, Bell said only, "I can't even. I can't.")
Then Hazzard took the shot.
And missed.
No other player was willing to go after the ball, so the rebound was left to Hazzard, who still had plenty of time to shoot again. Which he did.
And missed, again.
Hazzard released his third and winning attempt just one second before the shot clock sounded.
"Am I sick?" he said after the game, grinning. "Sick at shooting, maybe."
The first half was all Arizona. Zeke Nnaji bulldozed his way to a game high 34 points and 17 rebounds in the best statistical NCAA Tournament game ever by any Arizona player, and he was supported by the steady hands of Nico Mannion and Josh Green, both notching seven assists in the game against zero turnovers.
"We played sound basketball tonight in the first half, guys doing their thing, locking up on defense, making the right plays. But the second was rough. Ira sort of killed us," Mannion admitted.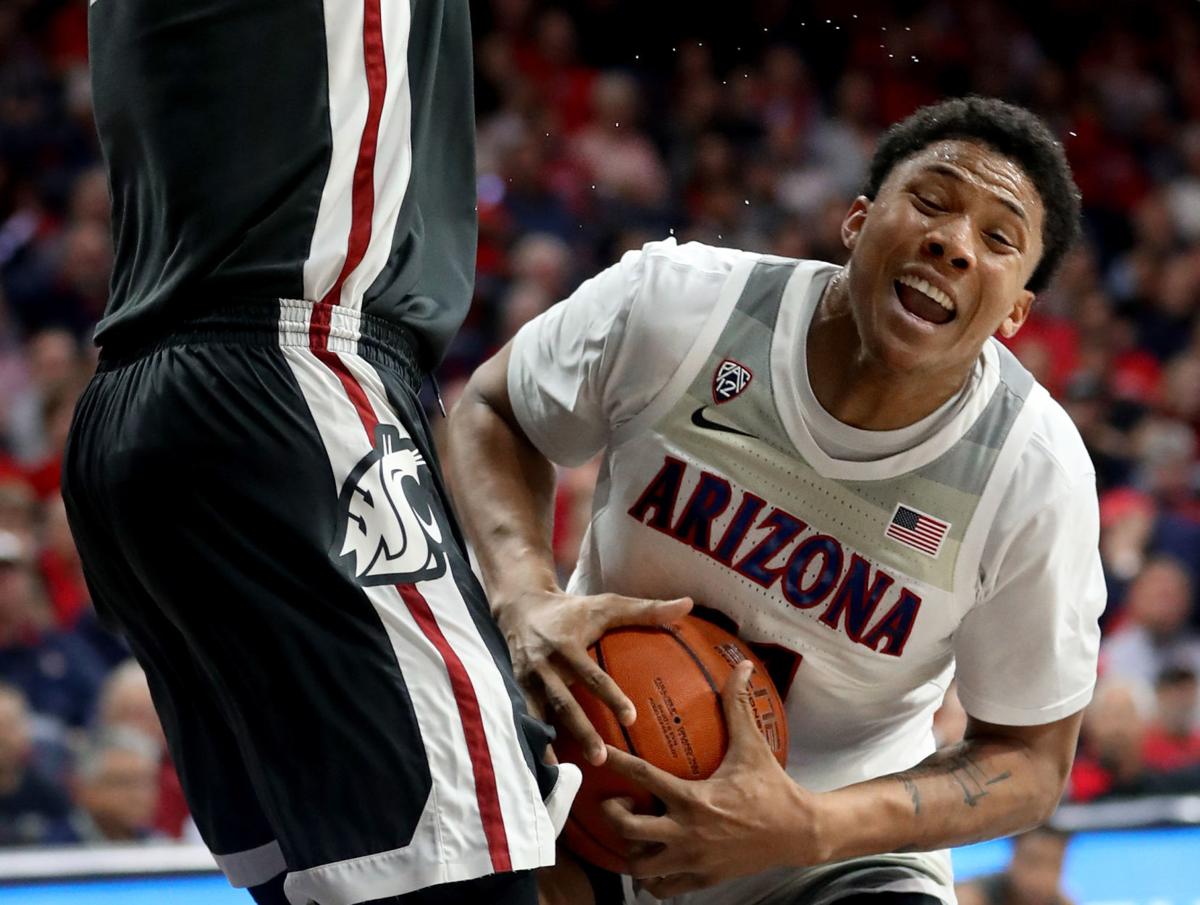 An accidental highlight came midway through the first-half when Arizona forward Ira Lee missed a left-handed windmill dunk. The ball bounced high into the air, and Green soared over Texas Tech player Davide Morretti, clearing him entirely, then snatching the ball and throwing it down.
"That play was a little better than his last pass," Miller deadpanned.
It was Coach Bell's shift to small ball in that second half that brought Texas Tech back into the game. Guards Morretti, Kyler Edwards, and Jahmi'us Ramsey pestered Arizona's big men on the interior, causing a string of seven turnovers during a hectic four minute sequence late in the game, during which Texas Tech trimmed away all their deficit.
Also a talented freshman with NBA potential, Ramsey led Texas Tech with 22 points. "I thought we had it, I thought we had a chance," he said. "Until that whack came in."
It's just the first round of the tournament, but Arizona's heralded freshman trio is playing as advertised—and getting the kind of help that teams need for a deep March run.
"This," Hazzard said, "is just the beginning."
UP NEXT
Arizona plays No. 2 seed San Diego State on Saturday.